Research Group
Web & User Data Processing
Publication
Authors Srba, I., Pecher, B., Tomlein, M., Moro, R., Stefancova, E., Simko, J., Bielikova, M.
Published in SIGIR'22
Monant Medical Misinformation Dataset: Mapping Articles to Fact-Checked Claims
Srba, I., Pecher, B., Tomlein, M., Moro, R., Stefancova, E., Simko, J., Bielikova, M. – SIGIR '22, 2022
False information has a significant negative influence on individuals as well as on the whole society. Especially in the current COVID-19 era, we witness an unprecedented growth of medical misinformation. To help tackle this problem with machine learning approaches, we are publishing a feature-rich dataset of approx. 317k medical news articles/blogs and 3.5k fact-checked claims. It also contains 573 manually and more than 51k automatically labelled mappings between claims and articles. Mappings consist of claim presence, i.e., whether a claim is contained in a given article, and article stance towards the claim. We provide several baselines for these two tasks and evaluate them on the manually labelled part of the dataset. The dataset enables a number of additional tasks related to medical misinformation, such as misinformation characterisation studies or studies of misinformation diffusion between sources.
The source code and dataset sample is available at Github
The full dataset is available at Zenodo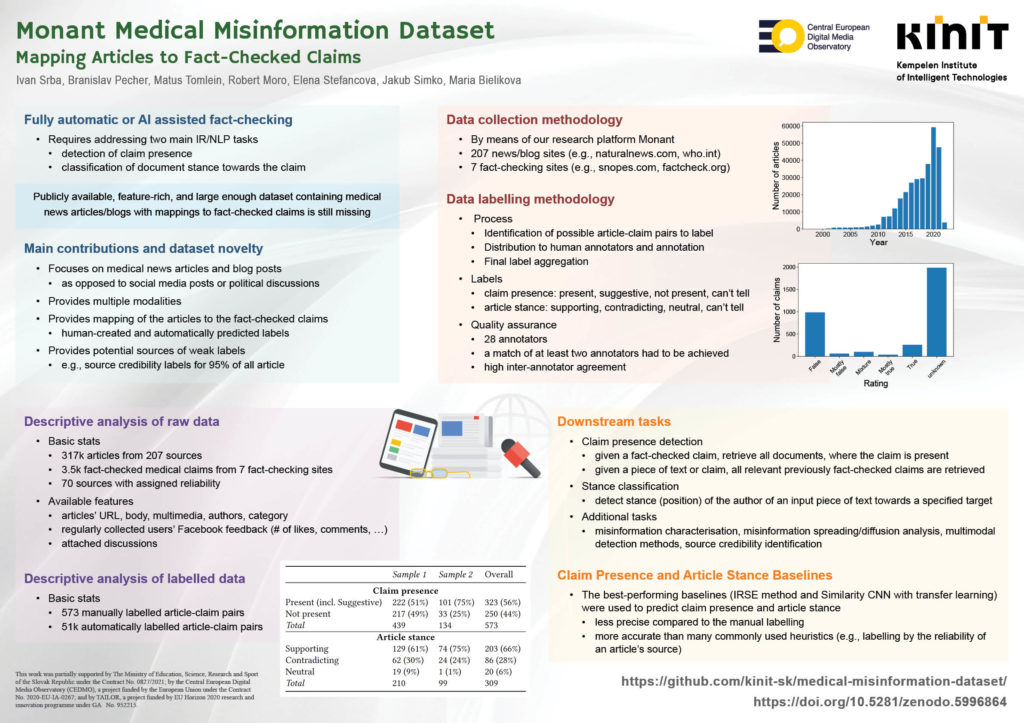 error:
Alert:
Content is protected !!