Research Group
Web & User Data Processing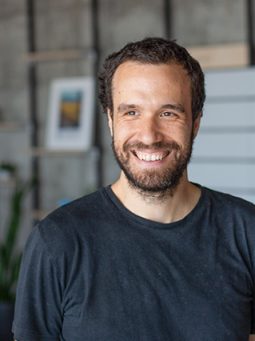 Jakub Šimko
Research areas: user modeling, human computation, crowdsourcing, false information detection, user studies
Position: Expert Researcher
Jakub focuses on the intersection of human computation, eye-tracking and user modeling. He has recently been working on misinformation modeling and promotes interdisciplinary approaches to computer science research. In 2013, he was awarded a doctoral degree from the Slovak University of Technology in Bratislava, receiving the rector's award.
He has participated in international research co-operation with Bar-Ilan University and the University of British Columbia. Jakub has worked on more than 10 national and international research projects and participated in several industry projects. He has authored more than 30 publications, received more than 160 citations and is a reviewer for several Springer and Elsevier journals.
He was a member of the PeWe (Personalized Web) research group and worked at the User Experience and Interaction Research Center. Finally, he is enthusiastic about creating online educational materials and has authored over 50 educational videos with lectures or tutorials.
Selected achievements
Member of the excellence team PeWe of Slovak University of Technology in Bratislava, lead prof. Mária Bieliková
Selected activities
Other notable projects
Misinformation Detection in Healthcare Domain
APVV SK-IL-RD-18-0004. 2018-2020, Partner: Bar Ilan University (prof. Sarit Kraus), Bielikova, M. – principal investigator
Automated Recognition of Antisocial Behaviour in Online Communities
APVV-17-0267. 2018-2020, Partners: Comenius University in Bratislava, Technical University in Kosice, Navrat, P. – principal investigator
Modeling, Prediction and Evaluation of User Behavior Based on the Web Interaction for Adaptation and Personalization
VEGA 1/0667/18. 2018-2020, Kompan, M. – principal investigator
Innovative Methods of Teaching Informatics in Large Groups with Support for Online Education
KEGA 028STU-4/2017. 2017-2019, Bielikova, M. – principal investigator
Human Information Behavior in the Digital Space
APVV-15-0508. 2016-2020, Partner: Comenius University in Bratislava, Bielikova, M. – principal investigator
Innovative Teaching Curricula, Methods and Infrastructures for Computer Science and Software Engineering
SCOPES 160480. 2015-2018, Partner: University of Novi Sad (prof. Mirjana Ivanović), University of Lugano (prof. Cesare Pautasso), Bielikova, M. – principal investigator
Selected Student Supervising
Master
Racsko Patrik – Processing gaze data using deep learning. Ongoing
Hanáková Martina – Measuring perceived trustworthiness on the web. Ongoing
Schrojf Viliam – Game with a purpose for the domain of online fake news. Ongoing
Krátky Marek – Game with a purpose for the domain of online fake news. Ongoing
Sitárová Daniela – Automatic detection of fake news based on reader behavior analysis. Defended 2020
Redajová Martina – Automatic acquisition of user characteristics from gaze. Defended 2018
Kostova Sandra – Automatic assessment of user's curiousness based on behavior on the web. Defended 2018
Mäsiar Aleš – Gaze-tracking in human computation. Defended 2017
Vrba Jakub Benjamín – Automated segmentation of screen recording for scene definition. Defended 2017
Kucharíková Zuzana – Collection of information in the wild using mobile application: monitoring of visual smog. Defended 2017
Kutlíková Lenka – Automatic evaluating usability of applications with eye-tracking technique. Defended 2017
Gašpar Peter – Linking of multimedia metadata using microblog network. Defended 2016
Láni Marek – Acquisition and correctness assessment of answers in an education system using crowdsourcing. Defended 2014
Dulačka Peter – A game with a purpose for metadata acquisition and authority discovery. Defended 2014
Balázs Nagy – Acquisition of metadata for effective organization of personal multimedia repositories using a game with a purpose. Defended 2016
Bachelor
Rybárik Sandro – Consumption and detection of misinformation by people. Defended 2020
Láštic Filip – Annotation application for false information. Defended 2020
Racsko Patrik – Analysis of fake news reader gaze. Defended 2019
Hanáková Martina – Analysis of fake news reader gaze. Defended 2019
Polakovič Martin – Game for linking resources and metadata in multimedia domain. Defended 2015
Mäsiar Alešn – Game for linking resources and metadata in multimedia domain. Defended 2015
Kišš Marek – Acquisition of semantics and metadata using games with a purpose. Defended 2012
Dulačka Peter – Acquisition of semantics and metadata using games with a purpose. Defended 2012