Research Group
Data Analytics for Green Energy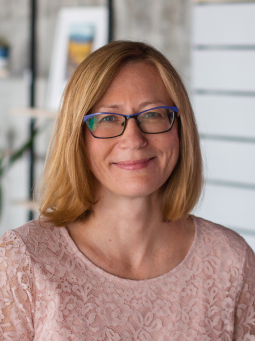 Gabriela Grmanová
Research areas: machine learning, data mining, artificial intelligence, mathematical optimizaiton
Position: Researcher
Gabriela is a senior researcher focusing on artificial intelligence, machine learning, data mining and probabilistic modeling. She has applied her research to energy production and consumption forecasting, microgrid optimization and flow cytometry data analysis.
In 2006, she completed a six-month internship at Vienna's University of Natural Resources and Life Sciences. She was a member of the Big Data Analysis group at the Slovak University of Technology in Bratislava and has been involved in several national and international research and industry projects including projects in co-operation with sféra and Atos.
Selected Student Supervising
Master
Ogurčák Vladimír – Prediction of electricity consumption. Defended 2016
Marcoňák Matej – Activity recognition using mobile sensors. Defended 2015
Rabčan Juraj – Creating visual codebooks. Defended 2015 (publication)
Kompas Šimon – Methods of DNA assembly. Defended 2015
Kyžňanský Michal – Use of biologically inspired approaches in clustering. Defended 2014
Bachelor
Hroncová Nikoleta – Clustering of cytometry data. Defended 2020
Nemec Radoslav – Image segmentation using clustering. Defended 2014
Šimek Juraj – Generating DNA sequences. Defended 2014 (IT Spy)
error:
Alert:
Content is protected !!