Research Group
Web & User Data Processing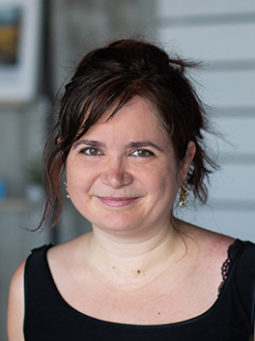 Andrea Hrčková
Research areas: disinformation and manipulation in online environment, search engine optimization, impacts of new media to humans and society
Position: Researcher
Andrea holds a PhD in Library and Information Science from Comenius University in Bratislava. Her rather "exotic" background is supportive in human and data sides of artificial intelligence design. Andrea is a lifelong truth seeker, and this drives her current primary research interest – countering online disinformation and manipulations.
Besides the research papers in international journals and proceedings that she has co-authored, she has authored one monograph, co-authored two textbooks and delivered more than ten invited lectures. She also likes to popularize science, especially through blogs.
Her experience outside KInIT includes lecturing at Comenius University, working with NATO, Azet and Ministry of Construction and Regional Development of SR. Andrea is also enthusiastic about working on projects for social good, so she has been collaborating heavily with libraries and NGOs.
Selected achievments
Co-authored the award-winning paper on social media auditing (Best Paper Award at RecSys'21)
Professional Service
Information Interactions, Knihovnícky barcamp
Journals: Online Information Review
Modeling of the Information Environment of Digital Scholarship
VEGA 1/0066/15. 2015-2017
Human Information Behavior in the Digital Space
APVV-15-0508. 2016-2020, Partner: Comenius University in Bratislava, Bielikova, M. – principal investigator
Automated Recognition of Antisocial Behaviour in Online Communities
APVV-17-0267. 2018-2020, Partners: Comenius University in Bratislava, Technical University in Kosice, Navrat, P. – principal investigator
Misinformation Detection in Healthcare Domain
APVV SK-IL-RD-18-0004. 2018-2020, Partner: Bar Ilan University (prof. Sarit Kraus), Bielikova, M. – principal investigator
Selected Student Supervising
Master
Kajanová Denisa – Application of linked open data in the library environment. Defended 2019
Macko Milan – Emotions and mood in music information retrieval. Defended 2019
Garaj Andrej – Gamification of libraries. Defended 2017
Kozová Nikola – Information as call to action in persuasive design. Defended 2016
Matheidesová Martina – Information manipulation in social media. Defended 2015
Bachelor
Mirga Tomáš – Filter bubbles theory. Defended 2018
Konfráterová Dominika – Microdata in Schema vocabulary as one of the search engine optimization factors. Defended 2017
Dubová Mária – Utilizing eyetracking for academic websites testing. Defended 2016
Vrábelová Barbora – User identity and role in social media. Defended 2014
error:
Alert:
Content is protected !!