Research Group
Natural Language Processing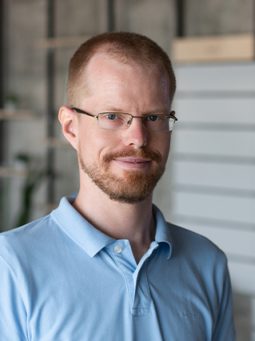 Martin Konôpka
Research areas: natural language processing, neural networks, eye tracking, group user studies, eye tracking in programming, eye tracking in video games, empirical software engineering
Position: Researcher 10/2020-12/2021
Martin is a research assistant with interests in artificial intelligence and natural language processing, and eye tracking, the last of which he applies to analyze user behavior in group user studies and program comprehension studies, as well as to extend interaction in video games. He addresses quantitative collection, eye movement analysis and interaction data in user experience and program comprehension studies.
Currently, he is developing neural networks for natural language processing and integrating these into software projects. Twice he has won the rector's Student of the Year award for his study and research results at the Slovak University of Technology, where as a teacher he supervised more than 10 Bachelor's and Master's theses.
Martin has experience in software development and software architecture and he was a member of the Microsoft Student Partner program, during which he organized developer community events and gave talks at Slovak developer and IT pro conferences focusing on Microsoft technologies (Gopas ShowIT, MS Fest, DevDays).
Professional Service
Member of PC: International Workshop on Eye Movements in Programming (EMIP)
Human Information Behavior in the Digital Space
APVV-15-0508. 2016-2020, Partner: Comenius University in Bratislava, Bielikova, M. – principal investigator
Research of Methods for Acquisition, Analysis and Personalized Conveying of Information and Knowledge
ITMS 26240220039. 2011-2015, Bielikova, M. – principal investigator
Selected Student Supervising
Master
Feješ Dominik – Automatic Gaze-based Determination of Player's Experience with Video Games. Defended 2021

Hepner Enrik – Analytical Tool for Recording and Analysis of Eye Movement Data for Video Games Usability Testing. Defended 2021

Smolová Alexandra – Analysis of Driver Behavior when Distracted by Mobile Communication using Eye Tracking. Defended 2020
Bachelor
Kecskés Dávid – Eye Tracking while Playing Video Games. Defended 2019Hepner Enrik – Eye Tracking in Video Games. Defended 2019

Feješ Dominik – Eye Tracking in Video Games. Defended 2019

Hučko Jakub – Analyzing Solutions of Programming Tasks using Eye Tracking. Defended 2017

Pavlíková Barbora – Identification of Important Places in Source Code using Eye Tracking. Defended 2016