Research Group
Information Security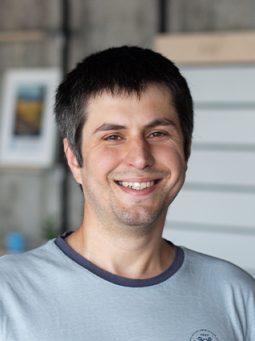 Dominik Macko
Research areas: energy efficiency, Internet of Things, low-power communication, network security, network anomaly and intrusion detection, machine learning
Position: Researcher
Dominik focuses on energy efficiency and security in the Internet of Things environment, from a communication point of view as well as from a device point of view. He focuses on reduction of unnecessary control overhead to create a secure channel and transmit data by strictly power-managed sensor nodes. Also, he deals with anomaly and intrusion detection in IP networks based on communication statistics.
He has authored or co-authored more than 50 publications in scientific journals and conferences, and regularly reviews submissions for renowned international conferences and scientific journals. He has supervised more than 30 Bachelor's and Master's students. He has participated in more than ten courses focused on computer networks or hardware design. He has served as a reviewer of multiple dissertation theses at Czech and Slovak universities. Formerly, he was a guarantor of the study programme Information Security at FIIT STU and served as a member of the Scientific Board of FIIT STU.
Professional Service
Journals:

Computing and Informatics,
Journal of Low Power Electronics,
International Journal of Engineering and Technology Innovation,
Journal of Sensor and Actuator Networks,
International Journal of Electronics,
Integration the VLSI Journal,
IEEE Transactions on Network and Service Management

Conferences
Member of PC:
Applied Research on Measurement of Physiologic Parameters of Stress and Smart Wireless Biomonitoring Using On-chip Technologies
APVV-15-0789. 2016-2019
Methods and Algorithms for Improving Efficiency and Multimedia Content Delivery in IP Networks
VEGA 1/0836/16. 2016-2018
Methods for the Design and Verification of Digital Systems with Low Power Consumption Using Formal Specification Languages
VEGA 1/0616/14. 2014-2016
Verification and Reliability of Digital System Design (VERSUS)
APVV SK-CZ-2013-0173. 2014-2015
Manufacturable and Dependable Multicore Architectures at Nanoscale
COST Action IC 1103. 2014-2015
Design Optimization of Low-Power Digital and Mixed Integrated Systems
VEGA 1/1008/12. 2012-2015
Selected Student Supervising
He supervised more than 30 students.
Master
Horňáček Július – Increasing communication efficiency of IoT devices by redundancy of access points. Defended 2021
Šedivý Miroslav – Increasing the security of Internet of Things using Honeypot. Defended 2021
Valach Alexander – Optimization of LoRa Devices Communication for Applications in Healthcare. Defended 2020
Groma Matej – Simplifying power intent specification at the RTL level. Defended 2020
Kaňuch Peter – Optimizing security of communication in Internet of Things by OpenHIP. Defended 2019
Pullmann Jakub – Increasing communication efficiency of IoT devices by minimizing collisions. Defended 2019
Škuta Michal – Power management automation for FPGA platform. Defended 2019
Gočal Pavol – Energy-efficient communication of Internet of Things devices using timing channels. Defended 2018
Hatvani Dušan – Increasing communication efficiency of IoT devices by changing parameters of a communication protocol. Defended 2018
Erdelyi Jaroslav – Estimation of power-management effect on dynamic power consumption. Defended 2017
Jenis Matej – Automatization of power-management specification of system model in time. Defended 2017
Krajča Patrik – Automation of power-management specification in system model. Defended 2017
Rychvalský Tomáš – Estimation of power-management effect on static power consumption. Defended 2017
Siro Miroslav – Synthesis of hardware power-management specification. Defended 2016
Liďák Michal – Power estimation of system-level hardware model. Defended 2014
Maron Ľubomír – Formal verification of the refined specification in HSSL. Defended 2013
Bachelor
Hlavačka Jakub – Energy-efficient authorization of blockchain operations for use in the Internet of Things. Defended 2021
Rypák Blažej – Web system for testing of algorithmic tasks in the C programming language. Defended 2021
Čechvala Marek – Automation of test communication in IP networks. Defended 2021
Holý Matej – Web system for testing of network-devices configurations. Defended 2020
Varga Norbert – Secured automated evaluation of a network configuration. Defended 2019
Šedivý Miroslav – Generation of test communication in IP networks. Defended 2019
Juško Jakub – Automation of text editing in the LaTeX format. Defended 2019
Csengődy Zoltán – Automated evaluation of a network device configuration. Defended 2018
Valach Alexander – Utilization of the LoRa technology in healthcare IoT devices. Defended 2018
Marso Karol – Embedded-systems communication using Bluetooth Low Energy. Defended 2017
Procházka Miroslav – Generation of diagnostic communication in IP networks. Defended 2017
Pullmann Jakub – Generation of diagnostic communication in IP networks. Defended 2017
Jurika Matúš – Generation of state machines for power management. Defended 2016
Tkáč Samuel – Equivalence checking of hardware designs using mathematical logic. Defended 2014
Paľove Stanislav – Digital system power estimation based on SystemC model. Defended 2014