Jul 20. 2022
Project manager for Slovak AI Digital Innovation Hub
We are looking for a skilled and reliable colleague to manage a unique project – the Slovak AI Digital Innovation hub in collaboration with a team of top and passionate researchers and delivery partners.
This position provides an opportunity to help transform Slovakia – to concentrate and circulate talent, to connect business and the academia through knowledge sharing. Working on the project is a unique possibility to drive a challenging topic, achieve personal growth, support the creation of an AI expert network and realize interesting networking activities.

Responsibilities
Overall project management as well as management of some of the work packages
Coordination, execution and delivery of the project administrative and financial tasks
Management, motivation and active development of the project team
Collaboration with other professional teams to ensure communication, marketing and dissemination of results
Should you be interested, please apply here:
By hitting "Apply", you agree that we process your personal data for recruitment purposes, based on the legal basis of GPDR Art. 6 (1) letter (a) consent to the processing of personal data. You can withdraw your consent at any time. For more information please read our Privacy Policy.
Education
2nd level university degree
Language skills
English – Advanced (C1)
Slovak – Advanced (C1)
Personality requirements and skills
Practical experience with project implementation and financial management
Proven track record in delivering business results
Experience with projects in the field of IT, product management experience and understanding AI is an advantage
Attention to detail
Fairness, openness and honesty
Communicative, initiative, independent, reliable and flexible
Ability to coordinate multiple activities at once
Enthusiasm and desire to work
Passion for innovations and networking
Information about the project
The Slovak AI Digital Innovation Hub (SKAI-eDIH) is a nation-wide ecosystem coordinated by the Kempelen Institute of Intelligent Technologies in close collaboration with CIVITTA Slovakia, Slovak Alliance for Innovation Economy and Center of Operations of the Slovak Academy of Sciences.
Project start date: September 1, 2022
Project duration: 3 years with potential for the follow up 2 years project (as planned by European Commission)
Project budget: 3 mil Eur (the whole consortium)
SKAI-eDIH is dedicated to 3 main goals:
promotion of digital technologies related to artificial intelligence in all its aspects,
supporting the SMEs in access to private and EU funding necessary for adoption of all digital technologies, focusing specifically on SMEs in the regions, and
development of Slovak and Central Europe digital innovation ecosystem.
The companies will benefit from the activities aimed at supporting and improving their AI competencies.
The main expected outcome of the SKAI-eDIH is the contribution to the digital transformation of local SMEs, small mid-caps, and public sector organizations, in the Slovak area, and thus for the AI technology development.
The SKAI-eDIH plans to achieve the stated outcome through the following services:
Test before invest – testing innovative technologies within the field of AI, as well as consulting services to identify approaches for AI application and deployment;
Training and skills development – training programs for companies in the field of Ai technologies, and support of innovation activities, as well as building human resources;
Support to find investments – identification of funding opportunities, advisory services in the field of programs directly managed by the EC, information services to attract investors and access to acceleration programs;
Networking and access to innovation ecosystems – mapping the innovative and digital environment, matchmaking, networking and brokerage services, creating partnerships.
Kempelen Institute of Intelligent Technologies is involved mainly in Test before invest and Training and skills development, which have a great potential to accelerate innovation in Slovakia.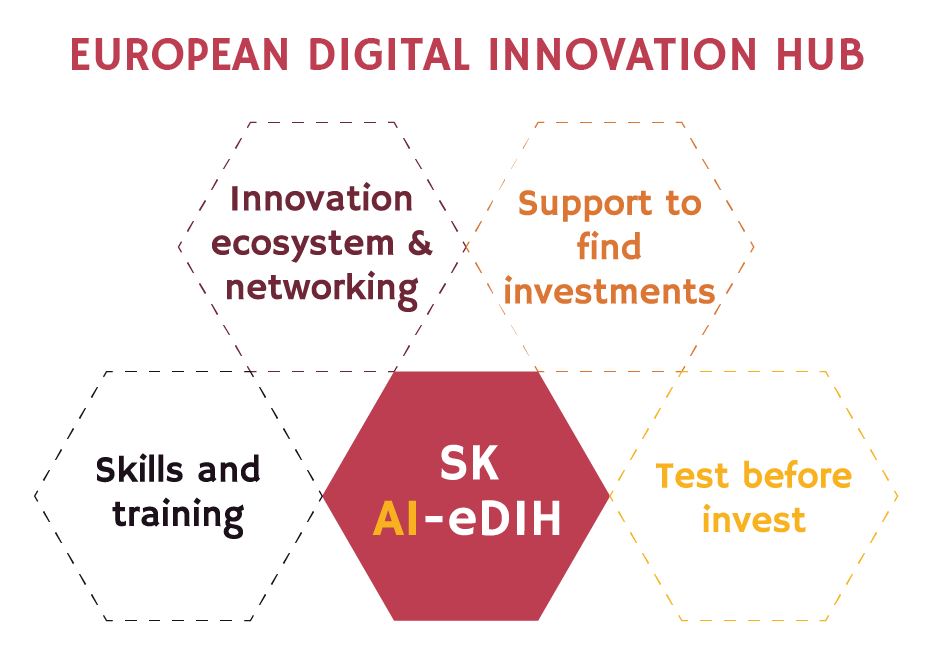 About KInIT
KInIT is an independent non-profit institute dedicated to intelligent technology research. We bring together and nurture experts in artificial intelligence and other areas of computer science, with connections to other disciplines:
Web and user data processing including false information and malicious behavior modeling
Processing and comprehension of natural language
Data analysis for green energy
Information security
Ethics and human values in intelligent technologies
KInIT combines the excellent competencies of academic researchers and educators with innovative companies, their needs and experience. By involving the private sector, we seek to create a healthy research ecosystem that is connected to existing universities, the Slovak Academy of Sciences and above all to the international research and innovation community.
error: Alert: Content is protected !!